Taillardat – the last name in luxury French furniture
There are times when only the very best will do. If you're looking for superbly-finished luxury furniture, there's no better place to go than www.taillardat.fr. This French company specializes in the manufacture of furniture from A to Z. This takes in joinery, cabinet making, French polishing, gilding, upholstery and more.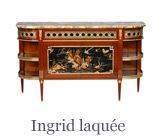 The Taillardat collection encompasses a large number of different styles and designs. No matter whether you're looking for a desk, a chest of drawers, dining room furniture, bedside tables, chairs, lounge tables (http://www.taillardat.fr/collection-tables-basses-en.php) or beds, you're sure to find something that catches your eye.
Taillardat's designs draw their inspiration from the 18th and 19th centuries. During this time, French furniture was celebrated and imitated, but never equalled, all over the world. Whilst the Louis XVI style is well-known, with an excellent example being illustrated in the photograph below, other tastes are catered to. Louis XV, Regency, Marie-Antoinette and Empire styles all have their own distinct characters.
Naturally, only the best materials are used in the making of Taillardat furniture. This includes quality marble, along with beech, oak, mahogany and other hardwoods.