Taillardat – a wide range of luxury reproduction designs from the Golden Age of furniture
Some designs and looks loom large in the public consciousness. In the field of furniture, there's no doubt that most people will be familiar with the terms 'Louis XVI', 'Empire' and 'Directory'. All of these movements hail from the Golden Age of French furniture, the 1700 and 1800s. Orléans-based company Taillardat makes beautiful items of furniture that take their inspiration from this period. Why not consult this page to see the full range of models that you can buy? There are articles suitable for all purposes and rooms: beds, chests of drawers, low tables, bedside tables, dining room furniture, stools, mirrors, sofas and chairs.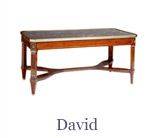 The lounge table shown below is a good example of the craftsmanship that goes into every Taillardat design. Made in the Louis XVI style, it's produced from top-quality mahogany and also features a marble top, bronze trim and ornamentation. As its name suggests, it is especially useful in living room environments, but could also be a good addition to your bedroom décor. As with every Taillardat design, it has been created lovingly by highly-skilled craftspeople.